Root Pouch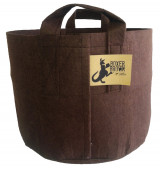 Root Pouch, What are they made of?
Root Pouch is an environmentally friendly alternative to the well-known plastic grow pots. Plastic fibers from recycled PET bottles are processed into a breathable fabric that allows air and water to pass through. Root Pouch Boxer Brown (non-degradable) is made from 100% recycled materials.
There are also biodegradable Root pouches in 2 qualities, namely the black and gray variant, of which the recycled fabric is mixed with natural materials such as jute, bamboo or other vegetable fibres.
Qualities
Root Pouch is available in 3 qualities of different thickness and lifespan:
Boxes Brown pot (round) 250 g/m² Non-degradable (100% recycled PET bottles)
Black pot (round) 250 g/m² Lifespan 4-5 years
Gray pot (round) 250 g/m² Lifespan 3-4 years
Showing 1 to 9 of 9 (1 Pages)