Gronest Aqua Breath Fabric Pot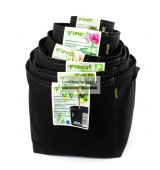 Gronest's Fabric Pots are equipped with Aqua Breath, developed by Gronest. Aqua Breath geotextile ensures that the Gronest Fabric Pots are very sturdy and durable. However, the most important innovations of Aqua Breath are the optimal aeration of the roots and the moisture retention.
Gronest Aqua Breathe Fabric Pots are double stitched for extra strength and made from the very best quality non-woven geotextile that works much better than the cheaper fabrics that most fabric pots are made from. Gronest Fabric Pots are made by hand in Europe. The Gronest Softpots are also washable and biodegradable.
Gronest Aqua Breathe Fabric Pots offer you the best value for money!
Showing 1 to 14 of 14 (1 Pages)