G-Tools Automatisch bewateringssysteem voor kweekkast Bonanza 0,35m2
G-Tools Automatisch bewateringssysteem voor kweekkast Bonanza 0,35m2
Dit automatisch bewateringssysteem werkt simpel en doeltreffend. Je kunt het op twee manieren gebruiken. Als een eb & vloed- of als een druppelirrigatiesysteem.
Het systeem bestaat uit een aluminium kweektafel, watervat, pompen en een lekbak waarop de planten staan.
Onder de tafel staat een waterreservoir met twee pompen. Een circulatiepomp en een toevoerpomp. De circulatiepomp zorgt dat de in het watervat aangemaakte voedingsoplossing niet neerslaat en minder vatbaar is voor bacterie- en algengroei.
Druppelirrigatiesysteem
Een druppelirrigatiesysteem is erg handig wanneer je slechts een paar grotere planten in potten met aarde kweekt. De planten krijgen van boven water. Het systeem wordt geleverd met meerdere druppelaars. Hierdoor kun je de waterafgifte per plant goed doseren.
Bij gebruik als druppelirrigatiesysteem is de toevoerpomp verbonden met een systeem van druppelaars. Deze pomp wordt op gezette tijden in- en uitgeschakeld door een tijdklok. Hierdoor wordt water met voeding naar iedere individuele plant op de lekbak gepompt. Water wat onder uit de potten lekt loopt terug naar het reservoir.
Dus een veilig gesloten systeem zonder kans op lekkages.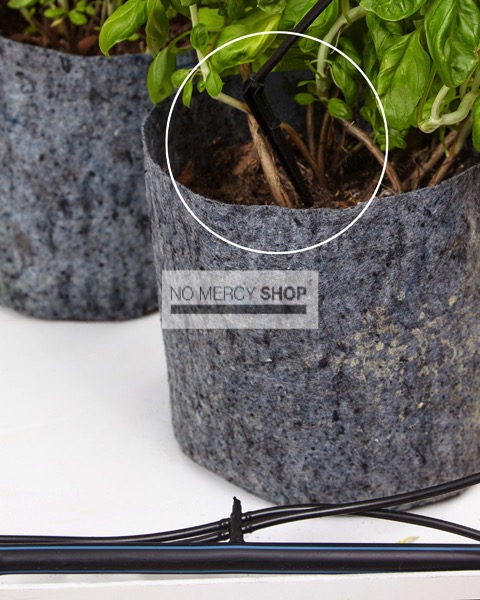 Via een systeem van druppelaars wordt er naar iedere individuele plant water gepompt

eb & vloed irrigatiesysteem
Bij gebruik als eb & vloedsysteem wordt de toevoerpomp verbonden met de onderkant van de lekbak waarop de planten in potten staan.
Deze pomp wordt opgezette tijden in- en uitgeschakeld door een tijdklok waardoor een laagje water in de lekbak wordt gepompt. Wanneer de pomp weer uitschakelt stroomt het water door de zwaartekracht terug naar het waterreservoir onder de tafel. Met de stelpootjes onder de tafel kun je iets afschot creëren zodat de lekbak na iedere waterbeurt mooi droog valt.
De potten nemen via de gaten in de bodem het water op. Dit systeem functioneert ook erg goed met zogenaamde textielpotten zoals de Garden Highpro propot en Gronest aqua breath fabric potten in onze webshop.
Dus een veilig gesloten systeem zonder kans op lekkages.
Dit irrigatiesysteem is speciaal gemaakt voor de kweekkasten Bonanza 0,35 m2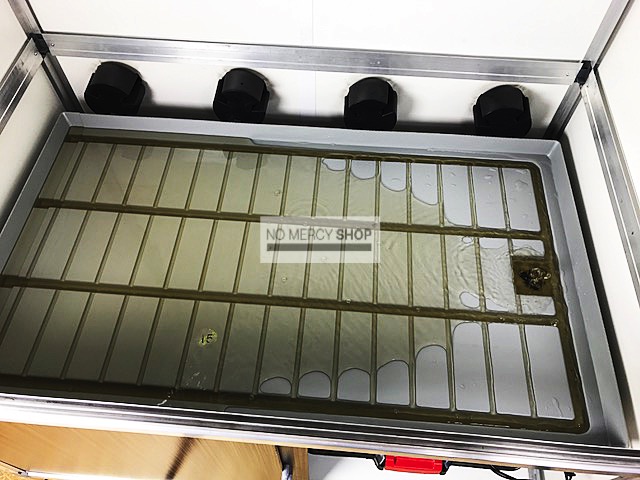 Bij gebruik als eb & vloed systeem wordt er op gezette tijden een laag water in de tray gepompt

Simpel in onderhoud en gebruik
De tafel met de lekbak wordt in de kast geplaatst. Het 21 liter vat plaats je onder de tafel. Het watervat kan je eenvoudig bijvullen via de onderste schuifdeuren van de kweekkast.
Het vat is met simpele snelkoppelingen verbonden met de rest van het systeem. Tussen twee oogsten kun je het eenvoudig loskoppelen, uit de kast nemen en schoonmaken.
Geschikt voor ieder medium
In principe kan het automatisch bewateringssysteem Bonanza 0,35m2 voor ieder medium worden gebruikt. Je kunt er planten in potten met aarde, cocos of zelfs op steenwolmatten mee kweken.
Houd wel rekening met de hoogte van de potten die je wilt gaan gebruiken. De tafel zelf is ook al 38cm hoog.
Bestaat o.a. uit:
Lekbak: (l x b x h) 52 x 52 x 4cm
Plaats voor: 8 x 6 liter of 4 x 11 liter pot
Aluminium tafel: 46 x 46 x 38cm
Voedingsvat: (l x b x h) 46 x 30 x 26, 21 liter
Toevoerpomp: Aquaking HX 2500
Cirkulatiepomp: Aquaking HX 2500
Druppelaars: 2 x 4 armige waterspin
Lengte armen: 80cm
Tijdklok: Digitale TBT met minuteninstelling
Geschikt voor: Bonanza 0,35-m2 modellen