Bonanza Sanlight Q3W (0,35m2)
Bonanza Sanlight Q3W (0,35m2)
Compleet ingerichte Bonanza mini kweekkast met Sanlight Q3W led kweekverlichting
De Bonanza 0,35m2 met Sanlight Q3W led kweeklamp is een plantenkweekkast voor de rest van het leven. De aluminium profielen, hoekstukken en PVC sandwichpanelen vormen samen een onverwoestbare constructie.
Ook de lamp is ontwikkeld met het oog op duurzaamheid. Wanneer de ontwikkeling van led technologie de techniek van de Q3W heeft ingehaald dan kun je de led modules eenvoudig en relatief goedkoop laten vervangen voor "state of the art" modules.
Daarnaast heeft deze plantenkweekkast een zeer neutraal uiterlijk waardoor hij overal is te plaatsen zonder aandacht van eventuele nieuwsgierigen te trekken.
Het compacte formaat van 61 x 61 cm maakt ieder ongebruikt hoekje van het huis geschikt om als kweekruimte te gebruiken.
De kast is lichtdicht, stil en voorzien van een koolstoffilter om ongewenste luchtjes te voorkomen. Om eventuele nieuwsgierigen de toegang te ontzeggen is deze kweekkast uitgerust met sloten. Beide deuren kunnen zowel linksom als rechtsom openend worden gemonteerd.
High end plantenkweekkast
Naast het onverwoestbare casco is ook het technisch interieur opgebouwd uit de beste artikelen. Met name de Sanlight Q3W behoort tot een van de beste led kweeklampen op de markt. Met z'n 120 Watt stroomverbruik gaat de stroomrekening bij 12 uur licht AAN per etmaal met slechts €7,- /maand omhoog.
De Q3W is een "full spectrum" lamp. De lamp kan zowel voor groeiende als bloeiende planten worden gebruikt. Je kunt deze lamp zeer dicht boven je planten hangen zonder dat dit schade veroorzaakt. De lichtspreiding op een hoogte van 25-40 cm is nagenoeg perfect. De Q3W heeft een lens die het licht ook nog 's tot diep in het bladerdek doet doordringen waardoor je ook onder aan de plant nog behoorlijke vruchtontwikkeling zult zien.
Met z'n toch al niet geringe hoogte van 1.76 meter kunnen er dus behoorlijk grote planten in deze plantenkweekkast worden gekweekt.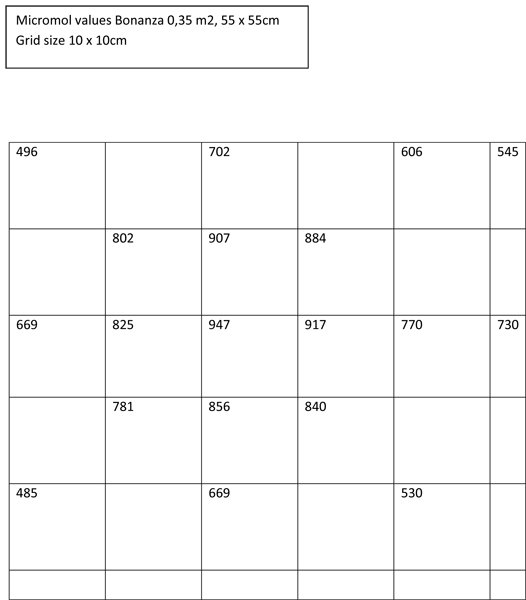 Op bovenstaand raster staan de gemeten lichtopbrengsten in µmol (micromol) gemeten op verschillende punten van het kweekoppervlak van de kast. De lamp hing op 25 cm hoogte.
De metingen werden uitgevoerd met verwijderde deuren. Deze zitten normaal gesproken aan de onderkant ven hat raster. Dit verklaart waarom de gemeten waardes aan deze kant wat lager uitvallen.
Stekker in het stopcontact en aan de slag
Naast de fantastische Q3W ledlamp wordt deze kast geleverd met luchtafvoer-, luchtfilteringssysteem, luchtinlaten en tijdklok. Alles door ons voor gemonteerd zodat u direct aan de slag kunt.
Service en garantie
Wij geven een jaar volledige garantie op de technische installatie van de kast. Op veel van de geïnstalleerde onderdelen zit nog een aparte fabrieksgarantie.
Zo geeft Sanlight bijvoorbeeld 3 jaar volledige garantie op hun lampen. Om te bepalen of uw kast nog binnen de garantie valt moeten wij dus wel kunnen zien wanneer deze is gekocht. Dus de factuur goed bewaren.
Afmetingen (h x b x d):176 x 61 x 61 cm
Materiaal: PVC/XPS/PVC sandwich panelen
Oppervlakte ~0,35 m2. Plaats voor 9 x 6,5 ltr potten, 4 x 11 ltr potten.
Ventilator: Winflex – 185M3 per uur ingebouwd in akoestisch geïsoleerde demper
Filter: Prima Klima K2600 240m3
Timer: Legrand Omnirex
Verlichting: Sanlight Q3W
Inc. sloten
Garantie: 1 jaar op technische installatie